| NEWS
新年快乐 – HAPpy chinese new year
On January 22nd our Chinese team members are celebrating Chinese New Year – also known as the Spring Festival or Lunar New Year. It is the most solemn festival in China and it marks the beginning of the new year according to the traditional Chinese lunar calendar.
For Chinese New Year, the twelve signs of the zodiac play a significant role. 2023 is the year of the Rabbit. Rabbits are often associated with the moon in Chinese culture, and are a symbol of longevity and peace. The characteristics of the rabbit include self-confidence, determination and the search for variety and new experiences in life.
That's a match! We at VOK DAMS can identify well with the rabbit. Constantly on the lookout for innovations, trends and the creation of new experiences, we want to take off again this year and incorporate the rabbit spirit into our projects by creating new extraordinary events.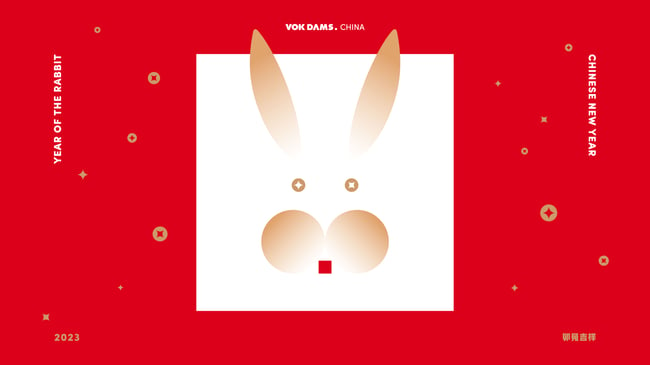 Starting the new year also means saying goodbye to the past year. Let's jump into a short year review and take a look at the VOK DAMS China highlights 2022: a brand-new Shanghai office with an impressive view, successful award ceremonies and of course, above all, the projects brought to life with heart and passion by our fantastic team.
Team China has designed and implemented many exciting projects over the past year.
2022 marked the culmination of a three-year-long partnership for the Porsche Track Experience and the Porsche Sports Cup China. Each year, our team offered guests an action-packed Porsche Experience on the race track in various cities. In addition, VOK DAMS China produced further brand experiences for our long-term client. Among other projects, our team created a unique colorful auto-booth for the new Porsche colours at the Chengdu Motor Show 2022.
VOK DAMS China came also back to CIIE 2022 for the second time supporting Volkswagen Group China with a futuristic booth spread over 1000 sqm – designed, supervised and set up by our China team.
Speaking of futuristic: With the Chinese electric car manufacturer NIO, we carried out a breathtaking introduction to the European market in Germany last year. What's special about this project was that the high-profile launch event saw the cooperation of five different VOK DAMS locations – Shanghai, Berlin, Tallinn, Frankfurt, and Wuppertal.
In addition to emotional live events, our Chinese experts produced exciting virtual and hybrid events: By creating a holistic brand experience, our China team helped Volkswagen AG turn the VW ID. AERO world premiere into a globally successful event with a visually exciting online concept that received a lot of attention from the market.
And there were so many other unique projects that made this year an exciting journey ...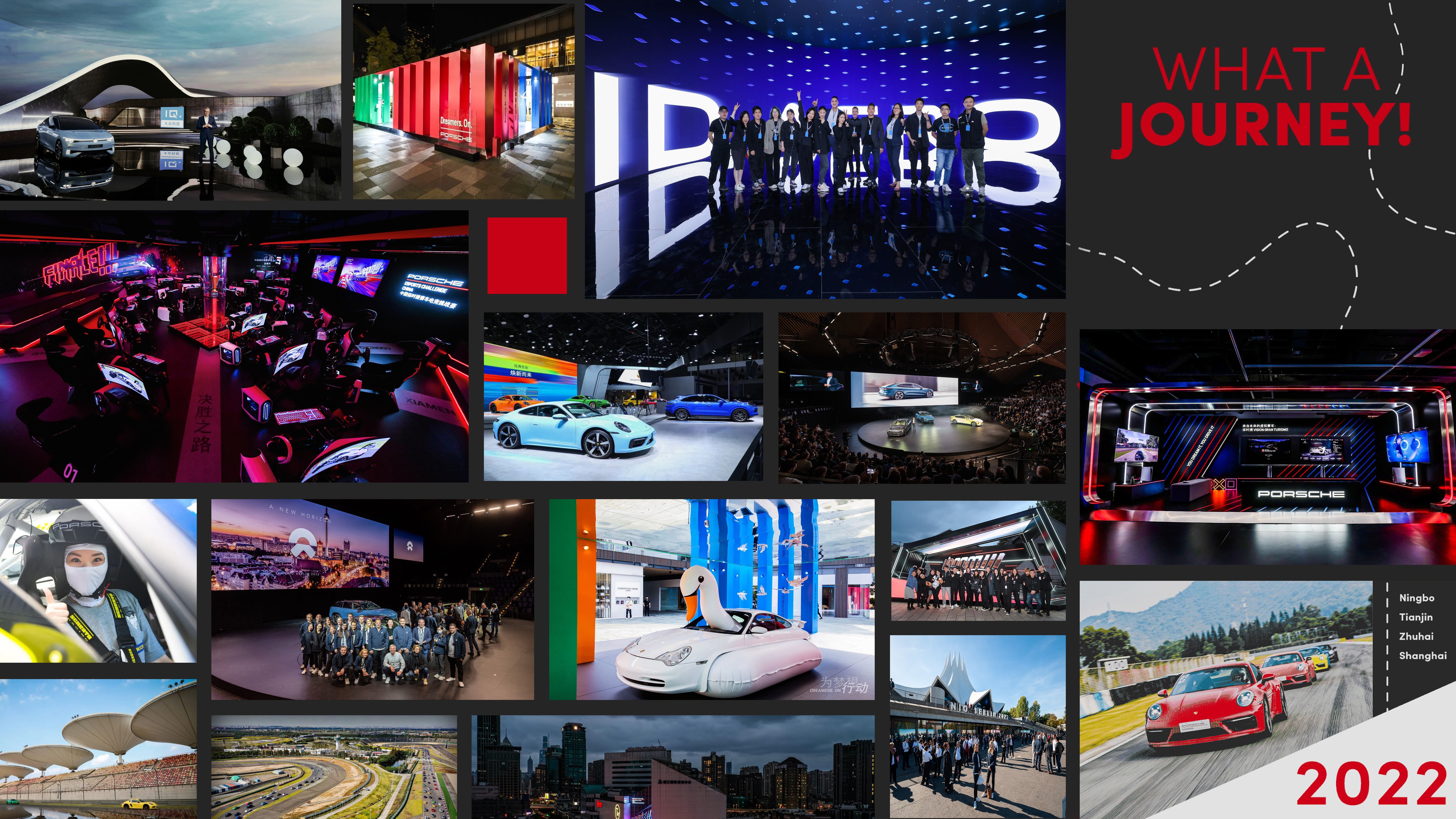 Our aim is always to create better results for our clients, not to win creative awards but it's nice when we can combine both in one fair swoop. In May 2022, VOK DAMS China brought home nine trophies from the 12th Global Eventex Awards. Six projects were honored:
The 2021 Porsche Esport Challenge China Finale (1x Gold, 1x Silver), the Volkswagen China Guangzhou Auto Show Booth Communication (1x Gold, 1x Silver), the Porsche Service Experience Day (1x Gold), the New Macan National Launch (1x Silver, 1x Bronze), the Polestar 2 Regional Launch (1x Bronze) and the Amway China Leadership Seminar (1x Bronze).
Another highlight was the move into the brand new Shanghai office in September 2022. After 13 years, three renovations, and countless memories, our team moved into more spacious premises on two floors with 60+ seats. A perfect new place to produce more innovative brand experiences and create lasting memories.
An eventful year lies behind us. And we are looking forward to what is to come in the next years – we are excited about groundbreaking events of the future. We wish our Chinese friends and colleagues a wonderful New Year celebration with their loved ones. 新年快乐!
---
RELATED ARTICLES:
CARIAD RELIES ON VOK DAMS CHINA FOR LAUNCH EVENT
VOK DAMS CHINA LAUNCHES CONSUMER EXPERIENCE FOR POLESTAR
VOK DAMS DRIVES NIO EUROPEAN LAUNCH EVENT