| PRESS RELEASE
VOK DAMS wins additional Miele projects after successful cooperation on digital trade fair
The experts for events and live marketing from VOK DAMS were able to secure further live marketing productions – including the opening event for the Miele Experience Center in Düsseldorf - for long-term client Miele.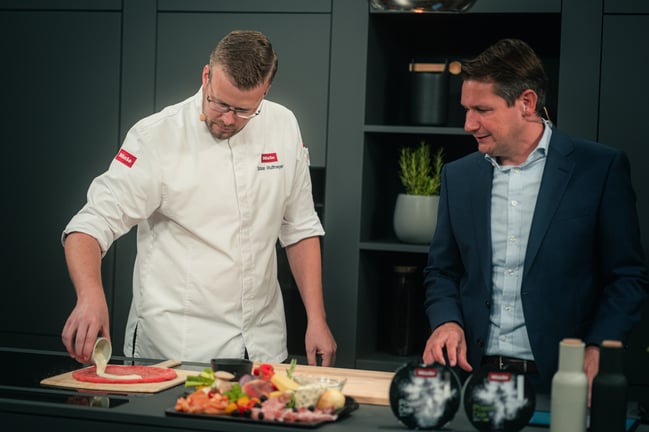 Successful cooperation on digital trade fair format
VOK DAMS and Miele have already worked together successfully on this year's digital presentation of innovations by Miele. VOK DAMS was responsible for the digital event as lead agency. During the event, Miele's new products were presented to employees, specialist dealers and media representatives.
VOK DAMS developed the digital trade fair format together with Miele in just a few weeks as an alternative for the IFA and the "Küchenmeile" trade fairs, which could not take place as face-to-face events due to regional COVID-19 regulations. In addition to supporting the overall concept of the digital event series, the development of a tailor-made, digital trade fair platform and studio planning, VOK DAMS was also responsible for all the content production.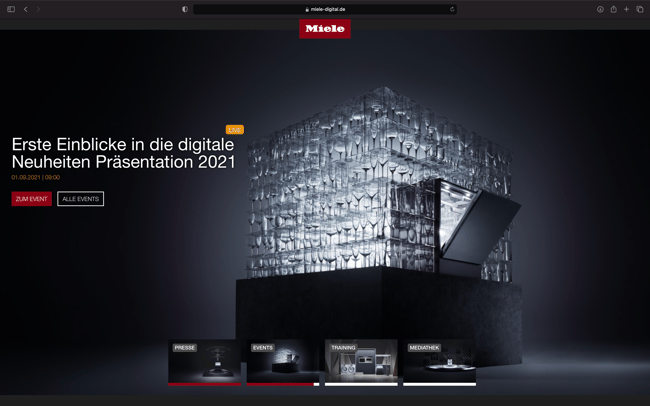 The "VOK DAMS Open Platform for Hybrid Trade Fairs" was used for the "Miele Digital Novelties Presentation", a customizable platform solution that offers invited and public visitors a contemporary digital brand experience with a variety of options for information gathering, interaction, participation and exchange with experts.
With live training components, various live and on-demand events, the digital press conference and the digital trade fair, all the participants had access to a tailored program on Miele product innovations. In addition, all content was available at all times via the platform media center.
---
RELATED ARTICLES:
DIGITAL EXPERIENCE PLATFORM "GROHE X"
DIGITAL EXPERIENCE HUB FOR A. LANGE & SÖHNE
EVONIK BUILDS ON THE DIGITAL EVENT EXPERTISE OF VOK DAMS FOR THE "EVONIK MEETS SCIENCE" SCIENCE FORUM