| NEWS
VOK DAMS creates WatcheS AND Wonders Experience for A. Lange & Söhne
VOK DAMS Munich once again produced the Brand & Product Experience for A. Lange & Söhne as part of internationally renowned trade fair Watches and Wonders. In order to make the exclusive event accessible to as many journalists, sales partners and end consumers as possible, A. Lange & Söhne and VOK DAMS pursued an innovative, three-part approach. Guests had the opportunity to experience the Saxon watch manufacturer and its new products in person in Geneva, digitally on the "Lange Experience Hub" and at one of the decentralized events in Lange boutiques around the world.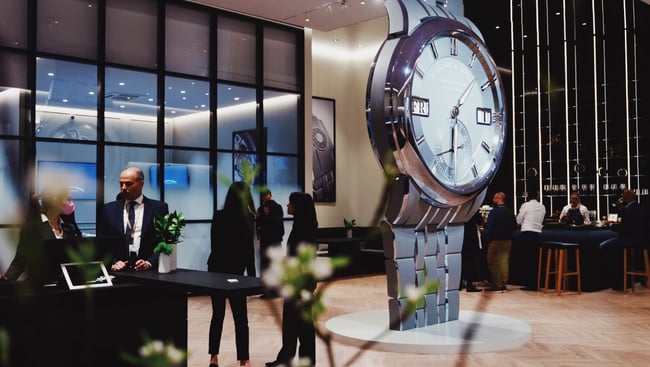 VOK DAMS crafted an eye-catching exhibition with A. Lange & Söhne at Watches and Wonders in Geneva, which reflected the master craftsmanship, the classic design, and the highest precision that define the brand's timepieces. An experience embracing personal exchange on site. In addition to developing the brand experience for the Geneva Watch Salon, VOK DAMS was responsible for the VIP evening events, the production of the digital Lange Experience Hub and the content production for all involved social media channels.
Selected Lange boutique events in Berlin, Frankfurt, Dubai, and Singapore offered all those who could not travel to Geneva the opportunity to conveniently experience the brand and the new products in their own region. Live streams between the Geneva booth and the boutiques created a sense of being and added to the atmosphere.
A. Lange & Söhne and VOK DAMS once again relied on the digital Lange Experience Hub during this year's Watches and Wonders. The Lange Experience Hub is an experience platform that offers digital event participants a tailor-made insight into the corporate and product world of A. Lange & Söhne. With the Experience Hub - specifically developed for the watch brand - all target groups are addressed on a central platform. With a personal, digital concierge - available at all times - to answer any questions, the Lange Experience Hub creates hospitality moments and a personal, individual experience in the digital space.
Lange & Söhne's three-pronged approach offered guests the flexibility that is appreciated now more than ever. It enabled participation both on- and offline, each with an equivalent brand experience. Each event in itself created real opportunities for interaction between participants and A. Lange & Söhne - regardless of whether they connected physically or digitally.
---
RELATED ARTICLES:
DIGITAL EXPERIENCE HUB FOR A. LANGE & SÖHNE
CONCOURS OF ELEGANCE: LIVE CAMPAIGN FOR A. LANGE & SÖHNE