| NEWS
Binding 100 Tons of CO2 in the Westerwald
Every year on Earth Overshoot Day, we are reminded that the Earth's resources are finite and that we are forced to stop our consumption of non-renewable resources as soon as possible. In order to achieve this goal, something has to change – as in all areas of society – also in the economy. As an international event and live-marketing agency, we face up to this responsibility by means of a variety of sustainable activities that we implement in our day-to-day business in line with our integrated management system.
An important step towards reducing emissions is the restoration and protection of functioning forests in order to bind CO2 more effectively. Due to drought summers, storms and bark beetles, the forests here in Germany are affected by massive damage.
We are very pleased that our clients, partners and employees care as much about sustainability as we do. Last year, we already exceeded our donation target for the Malizia Mangrove Park project and planted 11,580 mangroves. We also achieved a lot with our Christmas Charity Quiz 2022: With the numerous participants and our promise to bind 250 kg of CO2 per quiz participation, we support the binding of a total of 100 tons of CO2 together with Re-Spire and FORLIANCE.
We thus support the reforestation and maintenance of the Westerwald by establishing a robust mixed forest. The sustainable management of the forest through selective logging additionally provides new jobs in the local forest enterprises and a long-term income for the forest-owning communities.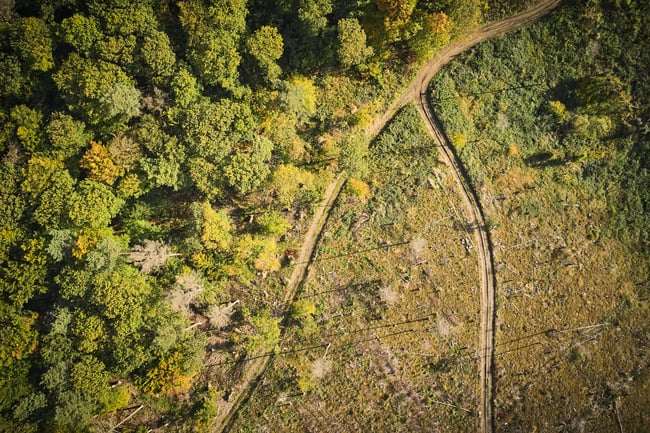 ON THE IMPORTANCE OF MIXED FORESTS
The establishment and long-term maintenance of climate-tolerant tree species and adapted forest animal management create robust and long-lasting mixed forests. These store more CO2 in the long term and are on average 15% more productive than monocultures, as the tree species supplement each other with water and nutrients, according to the researchers. This makes them more resilient from soil to crown and less susceptible to drought, storms and pests. The many different tree species and the crossbreeding of these, provide a wide variety of species and thus a wide range of ecological niches, through which the biodiversity of animals and plants is promoted and soil fertility is improved.
Mixed forests are becoming increasingly important in view of climate change and the rising ecological, economic and social challenges facing forests, which is why establishing them is so important – the sooner, the better. They improve our climate by storing carbon dioxide better and longer, expand biodiversity and thus contribute significantly to the fight against climate change.
We at VOK DAMS want to take responsibility. And not only in our daily work in event creation and production, but also in the joint achievement of global sustainability goals. This year, together with our clients, partners and employees, we have once again contributed to taking a step in the right direction.
Here you can find more information about the Re-Spire Westerwald project.
---
RELATED ARTICLES:
NFTS: A MORE SUSTAINABLE OPTION TO CONVENTIONAL GIVEAWAYS
SUSTAINABILITY EXPERT CLAUDIA KRAUSE ON LIVE MARKETING OF THE FUTURE