| NEWS
hybrid roadshows - THE holistic WAY OF BRAND EXPERIENCE

hybrid roadshows provide brands with the opportunity to create a unique and individual experience for their target audience that goes far beyond the event itself
Live marketing is one of the communication tools with the highest contact intensity, but the individual impacts of brand messages are limited. Hybrid roadshows can break down these spatial and temporal limits by using digital communication channels. Imagine being able to interact directly with your favourite brand in a small group of like-minded people and feeling that the event was made exclusively for you - Hybrid Roadshows make exactly that possible!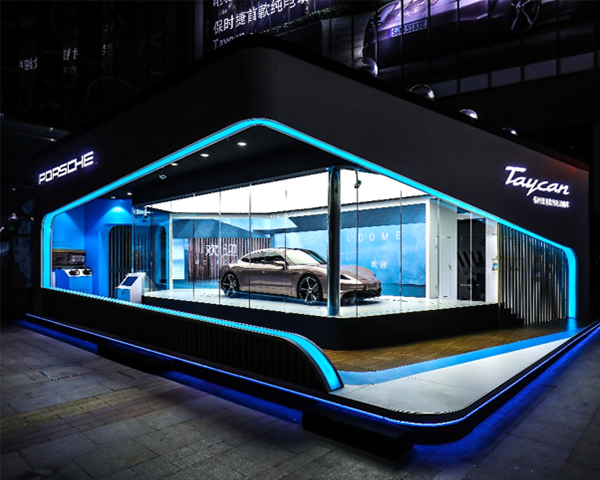 Porsche Taycan Space Roadshow in China, produced by VOK DAMS
Roadshows are decentralised, temporary brand experiences that bring brands directly to the target audience in a series of regional events, enabling a physical gathering of smaller groups. A hybrid roadshow is additionally enhanced by a digital component. This format is therefore extremely flexible and can address different target groups - be it at trade fairs, press events, central launch events, kick-off events or executive conferences. Hybrid roadshows can also be designed as showrooms, pop-up stores or locations and create new points of sale.
What really sets hybrid roadshows apart, however, is their ability to increase brand awareness and strengthen identification with the brand within the target group. They thus contribute to increasing sales. While the physical aspect of classic roadshows scores with direct and personal contact and multi-sensual appeal, hybrid roadshows focus on customer insights, reach and performance measurement. In hybrid roadshows, the live experience is bundled with digital communication channels and technologies in the form of gamification, social media or analytics tools, so that the potential of the direct customer approach is significantly increased with the help of the data collected before, during and after the live event. For example, the experience reaches the right participants via social media, is digitally enhanced on Experience Hubs and remains an experience at all touchpoints that addresses the personal, individual needs of the participants.
Through longer and more intensive brand exposure with increased reach, hybrid event strategies can also create a collective perception for brands and products. Hybrid roadshows are the perfect format to create a memorable and personalised brand experience that has a long-lasting impact on the target group.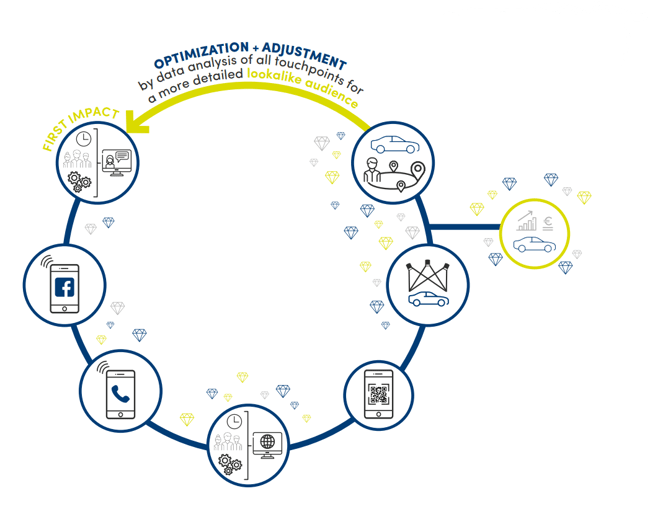 THE ART OF ROAD SHOW VARIABILITY
Whether press, customers, employees or the general public - sometimes it is important to design a live marketing measure that addresses several target groups at the same time. With such a multi-perspective event, a high level of attention can be generated through various channels. Because, as mentioned earlier, a roadshow offers the ideal framework for this, in order to organise several smaller events, and by using it as a hybrid roadshow, companies can communicate even more specifically with their target groups. An example of this would be an anniversary event in the form of a Hybrid Roadshow. This kind of event offers a unique opportunity to communicate and celebrate the company's history and values: live and in the media, as well as analogue and digital, all year round. A series of events that takes place at different company locations connects the participants across the individual events and thus intensifies communication.
Hybrid roadshows are not only beneficial for target group communication, but also for internal communication. Especially in times of change, the commitment of employees is of great importance. For a successful change process, employees and managers must be prepared to adapt to new tasks and work together as a team.
Hybrid roadshows are a good communication tool for three reasons:
1 The decentralised and temporary event format creates a higher intensity of contact and more individual communication quality in smaller groups.
2 Digital elements can be used to generate important information about the needs and wishes of employees, which can be addressed accordingly.
3 The use of media and digital tools prolongs and intensifies communication. In this way, employees and managers can be specifically involved in the change process and more easily develop a common understanding for the future of the company.

Overall, hybrid roadshows provide brands with the opportunity to create a unique and individual experience for their target audience that goes far beyond the event itself. Through the use of digital technologies, they can not only achieve a wider reach, but also generate more intense brand exposure by offering participants an interactive experience that engages them emotionally and creates long-lasting memories.
---
RELATED ARTICLES:
VOK DAMS WINS HEAVENT AWARD 2023
AS REAL AS IT GETS: EVENTS IN THE METAVERSE
HOW WILL AI CHANGE THE EVENT INDUSTRY?