| NEWS
SUSTAINABILITY EXPERT CLAUDIA KRAUSE ON LIVE MARKETING OF THE FUTURE
Claudia Krause is Head of CSR at VOK DAMS and the responsible for for the implementation and optimization of sustainability-promoting processes, whether at company or project level. She is also the head of our global CSR team. A multidisciplinary team that works tirelessly on new ideas and solutions and consistently questions existing standards. In our conversation, Claudia tells us what her personal ideas of a sustainable world look like and how sustainable action and unique events can be combined.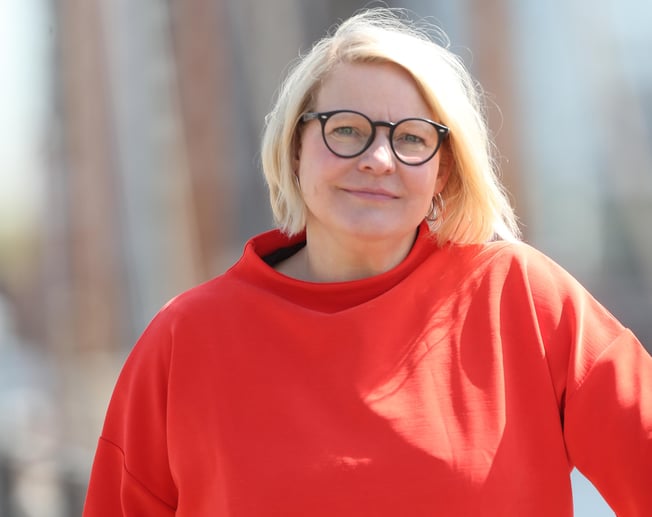 WHAT DOES THE TERM SUSTAINABILITY MEAN FOR YOU PERSONALLY?
First and foremost, sustainability means taking responsibility for future generations. I am convinced that our future world can only function if we all take better care of each other in our ecological, social and economic actions. The biggest impact will come through legislation, but each person has a responsibility in their everyday activities. The individual mindset of people has to change to influence to bigger picture.


WHAT ROLE DO DE&I PLAY?
A holistic understanding of the areas of diversity, equity and inclusion is absolutely crucial and must be firmly anchored throughout the company structure. Diversity and tolerance form the basis for success now and in the future. Approaches here can be, for example, the use of event budgets to promote equality or the search for a wide range of suppliers and providers. A sustainably appreciative and inclusive environment plays an important role for innovation, growth and competitiveness, without which ecological goals cannot be achieved. One influences the other, so the three major components of sustainability must be considered and optimized in a balanced manner.


VOK DAMS CREATED A MULTIDISCIPLINARY SUSTAINABILITY TEAM. WHAT ARE THE TASKS OF THIS TEAM?
That's right, we created a governance structure as part of strategy development that bundles and systematizes our sustainability activities. The most important part of the structure is our CSR team. Here we were able to integrate eight committed employees from different areas of the company. Through the involvement of the various departments, we are able to implement and challenge our sustainability strategy in human resources, controlling, digital, project management, strategy, marketing and creative. Two sustainability officers coordinate the team and offer regular training and information events. All process developments that arise from our CSR team are further developed in coordination with our management.


LET'S CONCENTRATE ON EVENTS NOW. EVERYONE TALKS ABOUT SUSTAINABLE EVENTS, BUT HOW CAN YOU ACTUALLY MEASURE THEM?
As with all measurements, variables must be defined first. Depending on the event type, these KPIs can vary greatly. Due to the strongest influencing factors, the climate killers, it is advisable to primarily determine the CO2 footprint of an event. Even better: keep it as low as possible. This is where the event CO2 calculator we developed in cooperation with Forliance can help. Our project managers are trained to use the calculator individually for projects and to advise our customers on their greenhouse gas savings right from the start. But qualitative characteristics can also be measured, such as gender equality, accessibility measures, inclusion measures, target group communication (gender neutrality, Braille, sign language) and much more. Of course, what is measured and tracked here also depends heavily on the project and/or client and its objectives. If a certain certificate is to be obtained or if the measures correspond to a certain corporate culture, then these values serve as a reference.


BREATHTAKING EVENTS AND SUSTAINABILITY - ARE THESE NOT MUTUALLY EXCLUSIVE?
That depends on the definition of breathtaking. For example, I was always a fan of events with lasting effects in terms of content, which bring about change and do not necessarily take your breath away through dominance of light, sound and media. Therefore, this is not ruled out at all. On the contrary, a sustainable way of thinking probably even promotes the development of new wow effects. It is clear that a launch event, like a vehicle world premiere, also needs a visual wow effect. Of course, this can also be implemented with more sustainable technologies and materials - you just have to leave your comfort zone and dare to break new ground.


WHAT INFLUENCE DO DIGITAL INNOVATIONS, SUCH AS THE METAVERSE OR NFTS, HAVE ON EVENT SUSTAINABILITY?
Digital events and hybrid campaigns are increasingly eliminating the main climate killers of events: travel/mobility, catering and location. However, they also create new challenges in that energy requirements are increasing enormously and supply chains are becoming more opaque. This means that countermeasures can no longer be taken effectively. There is no influence on the electricity supplier in the supply chain or in the home office. Fortunately, there are ways of influencing, such as using a sustainable blockchain. I assume that demand will have a positive impact on future supply. In addition, there are of course also social advantages and disadvantages that can only be assessed qualitatively. A challenge is e.g. the question of personal contact, the tonality of the metaverse and the creation of technical equality for everyone and thus the accessibility of information and interactivity for all participants to the same extent. You have to weigh up very carefully where digital solutions make sense and when they serve to achieve goals - from an entrepreneurial and sustainable point of view.


IS A SUSTAINABLE EVENT MORE EXPENSIVE THAN A COMPARABLE "CONVENTIONAL" EVENT?
As part of my qualification as a sustainability manager, I got to know people who have researched the question of increasing prices and cost savings in connection with sustainability and have even done a doctorate in it. There are numerous measures that can be implemented more sustainably and therefore more cost-effective. These are again the three areas of mobility/travel, location and catering. There are short-term successes and many more medium- and long-term savings possibilities, for example when we think of re-use and recycling. In our live marketing industry, however, there is no straight answer. However, it's certain that VOK DAMS designs and implements sustainable live marketing activities on budget. It is therefore a question of planning as well as agile event management together with our clients in order to achieve the best result for all stakeholders, including the environment. Our performance promise "creating better results" also includes "creating sustainable results" for exactly that reason.


WHAT DO YOU WISH FOR THE FUTURE OF THE EVENTS INDUSTRY?
We operate globally, are connected with many people from different cultures and origins, have business relationships locally and worldwide with companies from a wide variety of industries - we have a large sphere of influence. Therefore, my wish would be that all stakeholders in the event industry develop a clear awareness of sustainable solutions in order to keep our great industry fit for the future. There should be no competitive thinking and no profiling intentions. Rather, I wish that there would be a solidarity for a common goal: a sense of responsibility towards future generations.
---
RELATED ARTICLES:
VOK DAMS DONATES 11,580 MANGROVE TREES TO MALIZIA MANGROVE PARK
5 QUESTIONS TO ... SIMONE THOMSEN