| NEWS
Hyundai stunt for the PREMIERE of Spider-Man: No Way Home
VOK DAMS Frankfurt team created a spectacular stunt for Hyundai complementing the German theatrical release of the Hollywood blockbuster "Spider-Man: No Way Home". The unique live campaign is part of the global partnership between Hyundai Motor Company and Sony Pictures. The stunt is one of the many promotional activities, including the lauded TV commercial starring the Hyundai IONIQ 5 and Spider-Man actor Tom Holland.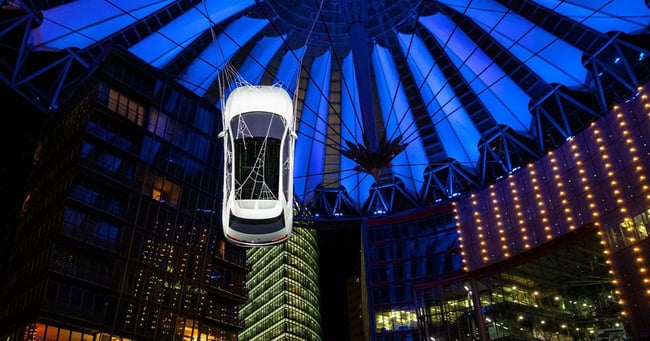 VOK DAMS grabbed the attention of the general public with a breathtaking and sophisticated installation in Berlin's Sony Center. A modern landmark attracting around 7.1 million visitors every year.
The IONIQ 5, which features in the movie, was suspended from the ceiling in a spider's web at a height of 23 meters, to the amazement of all visitors. At night, the vehicle's headlights illuminated the Sony Center's night sky, making the installation even more eye-catching.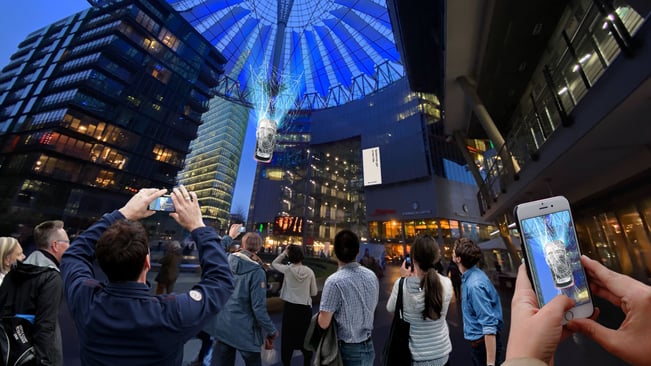 When planning the project, VOK DAMS' main focus was on feasibility and safety. The key here was the successful interplay of statics and technology. For the attachment of the invisible suspension and the special construction of the knotted steel net, professional mountain climbers were used.
The focus of the installation was on creating awareness and attention for the Hyundai IONIQ 5. The event was a rich content source for Hyundai's social media channels. Among others, Hyundai released a video on YouTube providing insights into how the IONIQ 5 got to the Sony Center in Berlin and the role of the multiverse and Spider-Man during the transport.
---
RELATED ARTICLES:
PCR-TESTINGS AT EVENTS WITH VOK DAMS AND LEELOO MEDICAL
VOK DAMS CHINA LAUNCHES CONSUMER EXPERIENCE FOR POLESTAR