| NEWS
Porsche - the art of dreams
With the support of VOK DAMS China, Porsche teamed up with renowned artist Chris Labrooy to create an extraordinary art installation entitled "Dream Big." - bringing it to the streets of Shanghai.

The immersive installation is a white Porsche 911 in the hand of a larger-than-life figure with a racing driver's helmet. The size of the figure gives the Porsche a toy car appearance, making Labrooy's artwork a tribute to childhood dreams. "Dream Big." challenges viewers to think about their own dreams and wonder where they will take them next. The inspiring installation is truly eye-catching and we are proud to be part of this unique project.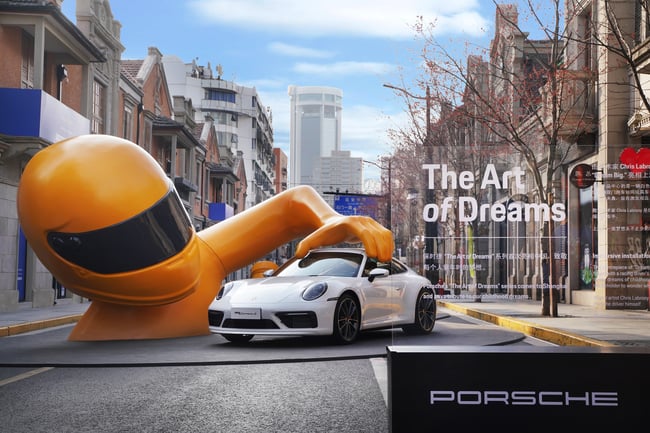 The artwork was set up at Zhang Yuan, one of Shanghai's hottest culture and fashion houses - and thus presented against a stunning backdrop. The building's Shikumen architectural style is a combination of Western and Chinese elements and first emerged in the 1860s. Placing the installation in this historic district created an impressive contrast between tradition and modern art.

With the help of Chris Labrooy's work, art and product are combined to create a fascinating installation that blurs the lines between creativity and brand presentation. Within a limited set-up time, from midnight to early morning, our team assisted in successfully assembling the four artworks (helmet, arm, torso and feet). The positioning of the artworks as well as the impressive Porsche 911 Carrera S also required a lot of care and attention. In the end, the result caused great astonishment and we are proud to be part in the realization of this unique project.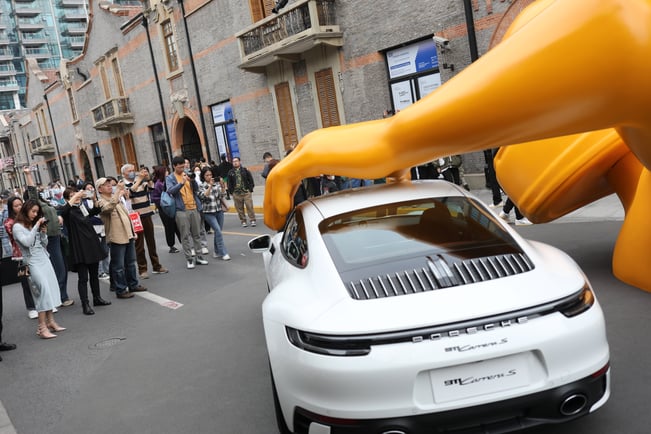 In cooperation with Porsche, VOK DAMS China mastered the challenges of the installation with flying colors and the result is something to be proud of: "BIG YELLOW MAN, ZHANG YUAN" became a top trending topic on social media, with feedback that could not have been better. The installation will continue to travel around Shanghai in the coming weeks. If you have the chance, you should not miss this fascinating eye-catcher!
---
RELATED ARTICLES:
VOK DAMS DRIVES NIO EUROPEAN LAUNCH EVENT
VOK DAMS PRODUCES BRABUS SIGNATURE NIGHT
CARIAD RELIES ON VOK DAMS CHINA FOR LAUNCH EVENT