| NEWS
NFTs - A more sustainable option
to conventional giveaways
Digital technologies can contribute to sustainable development through alternative forms of consumption. This especially applies to the latest craze: NFTs or non-fungible tokens, which happens to be the topic of our latest white paper "Boost your Live-Marketing with NFTs".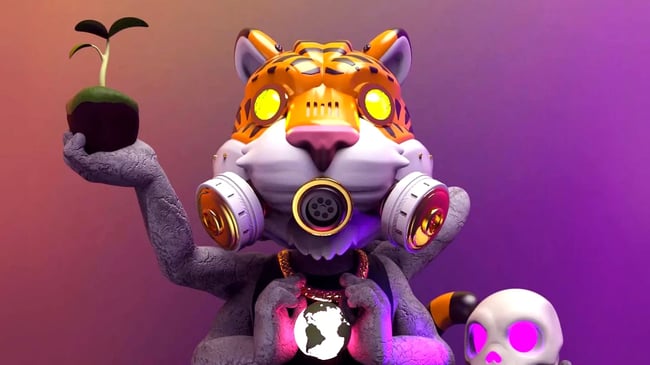 (Image: Freehand/WWF )
what are NFTs and are they truly sustainable?
With NFTs it is for the first time actually possible to own digital assets. NFTs are audio, image or video files in the blockchains and a form of cryptocurrencies. NFTs are characterized by their uniqueness. No two NFTs are alike, and it is this uniqueness and scarcity that defines their value. Therefore, NFTs primarily appeal to fans and collectors. They create the opportunity to let customers participate in the brand in a completely new way.
In common with other cryptocurrencies, NFTs require larger amounts of energy because blockchains are extremely hungry for computing power. However, this problem has been notably recognized and solved by Ethereum, the leading blockchain for trading NFTs. Recently, Ethereum switched its consensus mechanism from Proof-of-Work to Proof-of-Stake, which is a milestone for a more sustainable trading of NFTs. The new mechanism will reduce 99.99% of CO2 emissions in the future.
Besides the large Ethereum blockchain, there are also other smaller blockchains that are suitable for a more sustainable trading of NFTs. For example, the World Wildlife Fund (WWF) uses Polygon for its Non-Fungible Animals.
Accordingly, NFTs can be a meaningful and sustainable alternative to physical give-aways or other instruments for increasing brand awareness. Like everything, they should be of course used in the right places and responsibly. But not using NFTs for marketing would be a missed opportunity.
Please find the full version of our VOK DAMS whitepaper "Boost your Live-Marketing with NFTs" here.
---
RELATED ARTICLES:
WHITEPAPER - BOOST YOUR LIVE-MARKETING WITH NFTS
AS REAL AS IT GETS: EVENTS IN THE METAVERSE