| NEWS
Metaverse as a sustainable innovation driver?
With the digitization of events, the boundaries between the virtual and real worlds are increasingly disappearing. Our new reality will expand to virtual realities in which lively encounters and realistic experiences are possible with an expanded digital identity. The Metaverse will redefine the way we interact and collaborate. In doing so, it brings a number of benefits. Be it in collaborative work when it comes to unique brand experiences or in a personal context where social sharing and entertainment are the focus.

In this article, we focus on one important area: sustainability. How will the Metaverse impact the environment and its ecosystem? Will it increase climate problems, or will it be a step in the right direction? In the following, we will give examples of both three positive aspects and three criticisms.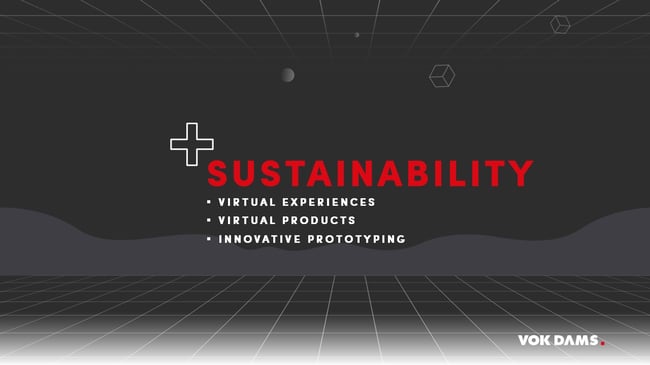 VIRTUAL EXPERIENCES
Let's start with the positive sides of the Metaverse in terms of sustainability. The Metaverse enables virtual experiences and meetings with a comparably low carbon footprint. Digital meetings with people from all over the world are a much more sustainable alternative to flying everyone in. At the same time, the human-emotional component is also taken into account through the immersive experience. Real meetings, whether professional or private, can be successfully substituted by virtual ones, resulting in a lower overall carbon footprint and limiting the negative impact on the environment.


VIRTUAL PRODUCTS
In addition to virtual interaction, virtual products can also play a role. In the future, the Metaverse will have consumer behavior, just as in real life. Brands will launch their products there, avatars will get digital fashion pieces, but also classic prestige products will find their way into our Metaverse world. Many real goods will be substituted by virtual ones. Of course, the production of these products also consumes energy and therefore has an impact on the environment. But nothing compared to the production process of physical goods.
Another positive aspect is the avoidance of incorrect real life purchases and returns. In the future, AR and VR tools will make it easier than ever to assess the look and fit of fashion, interiors or even cosmetics. Overall, then, the Metaverse will lead to product portfolios becoming more digital and thus less environmentally harmful.
Another milestone for the trade and use of digital products was the conversion of the Ethereum blockchain from the proof of work consensus mechanism to proof of stake. This will reduce 99.99% of CO2 emissions in the future and make virtual assets like NFTs much more sustainable.


INNOVATIVE PROTOTYPING
The Metaverse will drive innovation in terms of sustainable technologies and processes. With the help of simulations in VR and AR, the Metaverse can provide rapid progress in research and development. The ability to experience simulations immersive will enable early consumer engagement in testing digital prototypes. This provides invaluable insight into consumer preferences during product development. Digital prototyping and the Metaverse can therefore help reduce waste in production and distribution, contributing to a more sustainable process.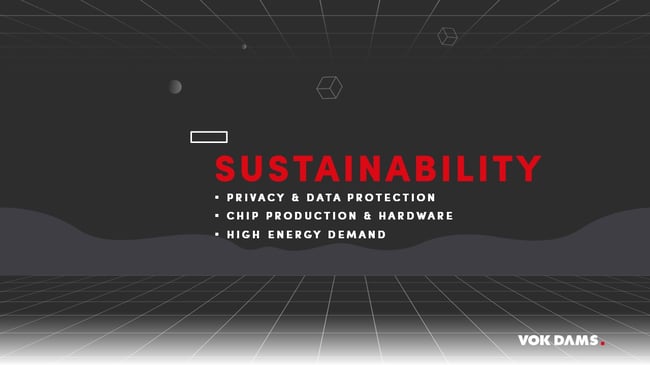 PRIVACY & DATA PROTECTION
The current virtual reality and the future Metaverse are already dominated by only a few major enterprises. Be it Meta, Microsoft or Apple. These tech companies - already very powerful in harvesting and storing valuable private data from all of us - will become even more powerful with the help of the Metaverse. The data-driven metaverse will produce data diamonds and lead to users becoming much more transparent. It is still unclear whether and how the Metaverse of the future will be data privacy compliant, especially in Europe. In terms of social sustainability, this is an important and still unresolved issue.


CHIP PRODUCTION & HARDWARE
The Metaverse will require a huge amount of chips worldwide, especially for the production of the hardware required for participating in the Metaverse. The demand for these critical components will inevitably lead to increased competition with other sustainable innovations, such as electromobility, which also relies on chips. This competition may result in slowing down the transition to sustainability in many sectors, such as transportation.
In addition, the recycling of hardware - which is brought to market in ever-shorter cycles - will be a major challenge as many components cannot or only poorly recycled, leading to an increase in the already huge volume of e-waste.


HIGH ENERGY DEMAND
The technologies that make the Metaverse possible or that are needed to use the Metaverse are all very energy hungry. Whether it's VR, AR, AI, blockchain or NFTs, they all require huge amounts of data, leading to high power consumption and therefore increased CO2 emissions.

The Metaverse is still a small prototype of its own vision but one day interoperability and networking of all major platforms will be enabled and data centers, servers and clouds will have to increase their energy requirements significantly once again.


CONCLUSION
In terms of sustainability, the Metaverse has both positive and negative aspects. However, it is important to keep in mind that the Metaverse will replace many areas of our lives today, be it products, encounters or business models. Consequently, this will lead to a decline in mobility and resource-intensive industries. People will no longer need to go to a specific location to have an interactive face-to-face experience, but will be able to have emotional encounters from the comfort of their homes. Nonetheless, the Metaverse will lead to increased energy demand that will impact our environment. However, this is a challenge for our entire society, which will require more energy against the backdrop of the digital transformation. Ultimately, the Metaverse will only be as clean as the electricity it is powered by. A decisive factor will therefore also be the development of renewable and environmentally friendly energy, significantly cushion the extent of the environmental impact caused by the increased energy demand.
---
RELATED ARTICLES:
AS REAL AS IT GETS: EVENTS IN THE METAVERSE
NFTS - A MORE SUSTAINABLE OPTION TO CONVENTIONAL GIVEAWAYS