| NEWS
AI Drives Live: How AI is revolutionizing the Live Event Experience
Nowadays, AI systems have reached unprecedented heights, they are now capable of imitating human-like behavior – from image recognition to language processing. Beyond technology, AI holds immense potential for a sustainable future: It optimizes energy, fosters inclusivity, drives efficiency, and inspires innovation.
Let's explore how AI technologies are influencing events and why we believe artificial intelligence will lead to the phenomenon of more live events – AI DRIVES LIVE!
ENHANCING THE EVENT EXPERIENCE: MAXIMIZE ENGAGEMENT AND THRILL
Current behavioral analyses show that people's attention spans are getting shorter and shorter, it is crucial to provide them with relevant information at the right time and place. AI-powered systems can take into account participants' attention spans and deliver relevant information in real-time at the right moment. By analyzing data such as location, schedule and preferences, event organizers can provide guests with real-time notifications, personalized schedules and location recommendations. This leads to an improved experience, increased communication relevance and effectiveness.
AI algorithms can also analyze preferences, interests and behavioral patterns to generate tailored content, recommendations and suggestions. Both pre-event and post-event communication can be targeted to align with participants' interests, making them feel more engaged and motivated to actively participate in the event.
Another advantage of AI lies in creating a more inclusive atmosphere at events. For example, AI tools can facilitate real-time audio-to-audio simultaneous translation, overcoming language barriers. This enables guests to follow presentations and speeches in their native language, contributing to a more comprehensive engagement and understanding. This creates a more inclusive environment and fosters cultural exchange at international events.
Additionally, AI can play a vital role in the interactive design of events. The use of chatbots or voice assistants allows participants to ask questions, receive information and enjoy interactive experiences. AI-powered image recognition and generation algorithms enable the creation of personalized visual content.
AI can also be used in show production to create stunning visual effects, virtual stage designs, and interactive projections that captivate and fascinate guests. This results in an immersive event experience that excites and leaves a lasting impression on the audience.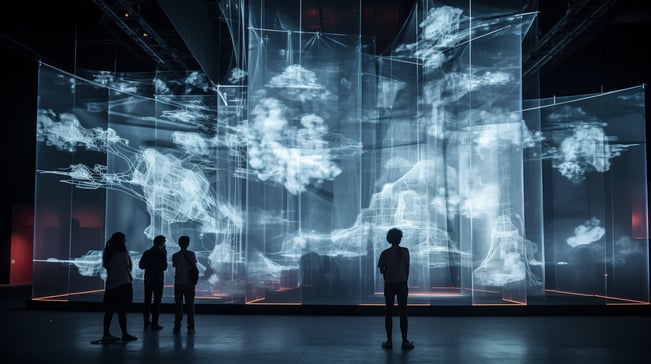 UTILIZING AI-DRIVEN ANALYTICS: UNLOCK THE POWER OF DATA
AI possesses the capability to handle vast amounts of data and process it more effectively than humans. In the realm of analytics, AI presents almost endless possibilities to effectively harness and utilize data, enabling informed decision-making. AI thus enables great potential for strategic live communication planning.
However, AI not only facilitates the utilization of data but also its collection. Through various analytical techniques such as facial and sentiment analysis or behavior tracking, AI can assist us in capturing information about visitor and guest satisfaction and interests. Based on this data, event managers can derive new strategies and optimize their event concept. Data analysis empowers making well-informed decisions based on facts rather than relying solely on intuition and create a more successful guest experience. Thus, AI supports the transition from intuitive decision-making to data-driven and transparent decision-making processes.
By employing AI analytics, event managers can gain valuable insights to enhance their events. They can analyze participant feedback, measure visitor engagement and evaluate the effectiveness of marketing campaigns. This enables continuous optimization and adaptation of the event strategy, through which event managers can plan their events with more precision, gain a better understanding of their target audiences and make decisions based on a solid data-driven foundation.
AI DRIVES LIVE!
Overall, it can be said AI is changing the world of live events in the long term. From planning and organization to interaction, personalized content delivery and security. AI offers a wealth of opportunities to take live Events to a new level. The future advancement of AI will undoubtedly lead to even more impressive and innovative event experiences.
We are already witnessing the transformative power of AI in the experiential industry. It supports event managers in finding more inspiration and creating concepts. But at the same time, the question arises as to whether live events will come to an end in the medium term as digitization continues to develop. We are certain: No AI tool can fully replace the magic and energy of a live event. The desire in each of us to sit around the campfire with other people, telling stories and interacting with each other. This is what we call the Campfire Gene.
Live Events serve as authentic, emotional, and credible channels of interaction and communication in our increasingly digital world. They foster unique connections, creating an atmosphere difficult to replicate digitally. The shared experience forms lasting emotional bonds and cherished memories. No matter how good AI will get, it will never replace human's desire to gather and share stories. AI tools will make events better but will never replace them.
---
RELATED ARTICLES:
AI AS A GAME CHANGER FOR SUSTAINABLE EVENT MANAGEMENT
SHINE: SUCCESS FORMULA FOR EVENTS
LIVE CAMPAIGNS: EVENTS AS CONTENT CREATORS