| NEWS
AgENCY FOUNDER Volkwart Dams has died
Our founder Volkwart Dams passed away on May 19, a few days after his 85th birthday, after a short, serious illness. He founded the agency VOK DAMS, now one of the leading event and live-marketing agencies worldwide, in Wuppertal in 1971, thus laying the foundation for a unique entrepreneurial history.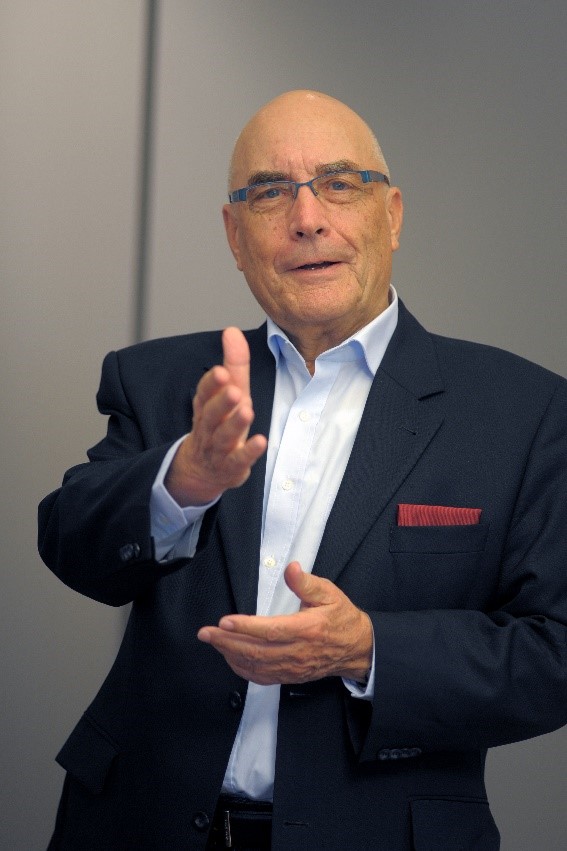 His vision and creativity as well as his attitude, passion, energy and dedication have not only shaped the success story of VOK DAMS. As one of the pioneers of the early days of the events industry, Volkwart Dams significantly shaped, influenced and inspired the profession itself and thus many generations of event managers. For many of us, he was a mastermind, a role model, a visionary. He inspired and motivated. He is - there is no other way to put it - a legend in the events industry.
His Credo: THINKING*FURTHER!
Twenty-five years ago, Volkwart Dams handed over the reins of the agency to his son Colja, who, building on his father's innovative spirit, expanded the agency's scope to the entire world. Today, Colja runs the agency group together with his wife Claudia. The family business has international offices in France, the United States, Dubai and China. As recently as last summer, the agency received the Achievement Award from MICE (Meeting Incentive Convention Exhibition) for its unique business development in terms of sustainability, entrepreneurship, digitalization and innovation. With this award, the organization also honored the lifetime achievement of the Dams family.
From photographer to driving force
Volkwart Dams began his career as a photographer with his first studio in 1962. The studio, which Volkwart Dams likes to call the "entrepreneurial nucleus in the heart of the Bergisch region," quickly developed into a communications agency with a nationwide catchment area. The committed and dynamic founder also earned his money with teaching assignments for universities and by organizing art exhibitions. He also worked as a journalist. In 2023, he celebrated 60 years of membership in the German Journalists' Association (DJV). The agency VOK DAMS saw the light of day in its present form in 1975, when it was entered in the commercial register.
Volkwart Dams was involved in the Marketing Club Bergisch Land as a Wuppertal ambassador until the end and was a founding member of the industry association FME - Forum Marketing-Eventagenturen (today fwd: Bundesvereinigung Veranstaltungswirtschaft), of which he was president from 1997 to 2005.
Exactly 10 years ago, Volkwart Dams founded the "Atelierhaus" in Wuppertal, which he conceived as an arts gallery and think tank. Here, too, the focus was on communication, creativity and marketing. Thus, it served as a communication platform with a note blog and newsletter and invited the public to discussion rounds as well as exhibitions of exceptional artists covering a broad spectrum of creativity. In all his various activities, which he pursued with admirable passion and enthusiasm throughout his life, it was always important to Volkwart Dams to provide food for thought, to set topics and to stimulate reflection and, above all, to encourage people to think further.
We are very grateful to him. We mourn the loss of a pioneer in the events industry, a great role model and a wonderful person.
Our sympathies go out to Colja & Claudia and Rik & Sophie, as well as all the family and friends.
RELATED ARTICLES:
GERMAN EVENT INDUSTRY ACHIEVEMENT AWARD FOR VOK DAMS
DE&I AS KEY TO SUCCESSFUL AGENCY MANAGEMENT
QUALITY MANAGEMENT AT VOK DAMS