| NEWS
Quality Management at VOK DAMS
VOK DAMS creates brand experiences that inspire. With 16 locations in Europe, Asia and the USA, we are one of the leading owner-managed agencies for events and live marketing worldwide. We create and produce our client events tailor-made and impactful - live, digital and hybrid. With concepts tailored to the target group and through personal and technical services, we have made our name synonymous with reliability and quality. This requires a targeted quality policy - which is at the core of our success. In 1999, VOK DAMS was one of the first in the industry to have its quality management system tested by an independent certification company in an elaborate procedure.
Through our quality management system (ISO 9001:2015), we create absolute transparency and traceability in every detail in all our projects. For more than 20 years, VOK DAMS has had its own quality management tested and affirmed by TÜV Rheinland in an annual audit. The basis of all our events produced is the continuous improvement of the daily practices of all project managers and teams. This constant process optimization provides our clients with security and creates a relationship they can trust.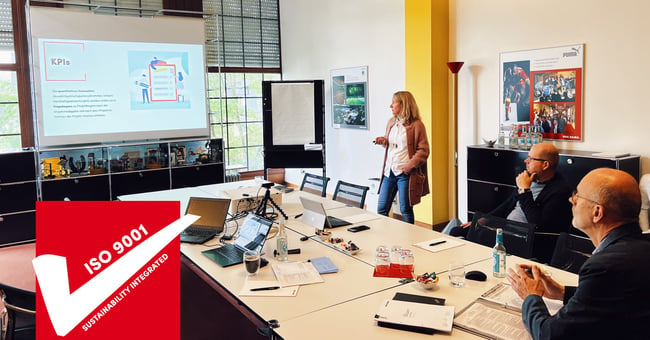 FOCUS ON SUSTAINABILITY
VOK DAMS is persistently improving its own quality management system and adapting it to changing conditions. Especially the comprehensive documentation of all process steps of an event, from the RFP, concept development to implementation and documentation, as this is the focus of the annual Tüv audit. This year, we placed particular emphasis on sustainability in our QMS. The aim is to systematically anchor sustainable practices in the management system and subsequently in the VOK DAMS QMS. There are currently 12 fields of action for projects, not only covering ecological but also social sustainability properties. Checklists, process models and tools, such as a CO2 event calculator, were developed for the sustainability-related fields of action. We are committed to set additional standards across our offices in the documentation of project-related sustainability aspects and to endorse the topic further within all departments of the company.
Quality has been the focus of VOK DAMS since it was founded over 50 years ago, and is one of our key promises to our clients. In order to meet client's high quality standards, our creativity and management complement each other perfectly right from the start. Regular training courses as well as internal and external audits ensure the desired high quality, assuring our clients better services, reliability and transparency. Additionally, it gives all our employees clear processes and individual leeway, allowing them to operate in accordance with the client-focused key VOK DAMS claim: creating better results.
---
RELATED ARTICLES:
SUSTAINABILITY EXPERT CLAUDIA KRAUSE ON LIVE MARKETING OF THE FUTURE
VOK DAMS SIGNS DIVERSITY CHARTER