| NEWS
Creating sustainable Results: CERTIFICATION ISO 20121
At a time when environmental protection and social responsibility are increasingly in the spotlight, it is crucial to achieve sustainable results: Creating Sustainable Results - an important VOK DAMS credo. As a response to these pressing demands, we are pleased to announce our latest achievement: ISO 20121 certification. This certificate is not only a recognition of our sustainability efforts, but also proof that investments in environmental and social responsibility can lead to significant added value in the long term.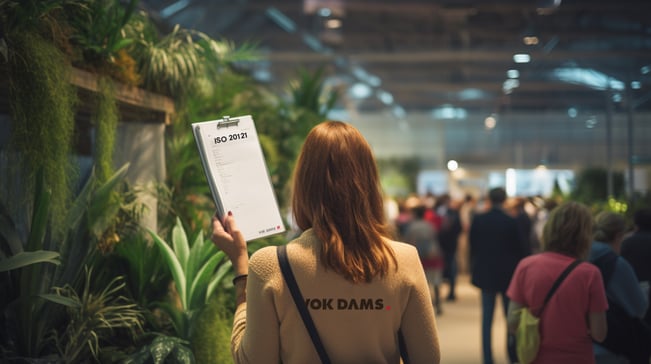 WHAT IS ISO 20121?
When it comes to organizing events, sustainability is increasingly taking center stage. ISO 20121 is the leading certification standard in this regard, and is recognized worldwide. Whether it's a small gathering or a large event, certification establishes guidelines and best practices to ensure that events are run in an environmentally friendly, socially responsible and economically viable manner.
Events often involve significant resource consumption and environmental impact, resulting in a significant amount of waste. The ISO 20121 standard was developed to reduce these burdens while easing the burden on local communities where events are held. The standard is based on the proven "Plan-Do-Check-Act" methodology and provides a systematic framework to integrate sustainable management practices and minimize impacts in relevant areas of sustainability.
ISO 20121 is not limited to specific areas of events. It applies equally to event organizers, service providers and the management of individual aspects of an event, such as catering, facilities and booths.
THE KEY TO SUSTAINABLE EVENTS
The ISO 20121 standard covers all three pillars of sustainability: economic, environmental and social responsibility. It thus aims not only to ensure financial efficiency, but also to minimize ecological impact and address social concerns. As such, it offers a holistic approach that ensures events not only achieve short-term goals, but also have a long-term positive impact on the environment and society.
Another major advantage of ISO 20121 is its adaptability. As the ISO structure of the standard, it was designed to be seamlessly integrated with existing management systems. Thus, with our quality management system already in place at VOK DAMS, we can easily integrate the principles of ISO 20121 into that system. This greatly simplifies the transition to sustainable event management without having to restructure existing processes.
With ISO 20121 certification, we can ensure at our agency that our clients' events not only create unforgettable moments, but also make a positive contribution to the environment and society. ISO 20121 is the key to sustainable events in a world that increasingly values responsibility and sustainability.
Sustainability serves as a foundational cornerstone for the success of events. For further information or an exchange, our CSR team is always available at csr@vokdams.de.
---
RELATED ARTICLES:
AI AS A GAME CHANGER FOR SUSTAINABLE EVENT MANAGEMENT?
AI AND CIRCULAR ECONOMY IN THE FOCUS OF EVENTS
SUCCESS FORMULA FOR EVENTS: SHINE