| NEWS
VOK DAMS WINS HEAVENT AWARD 2023
This year's Grand Prix International Jury Award at the Heavent Awards went to our VOK DAMS team for the launch event of the Fendt 700 Vario! The success of the Fendt event illustrates once again the immense impact of live events that are able to captivate, excite, and inspire the audience – and we are incredibly proud of that.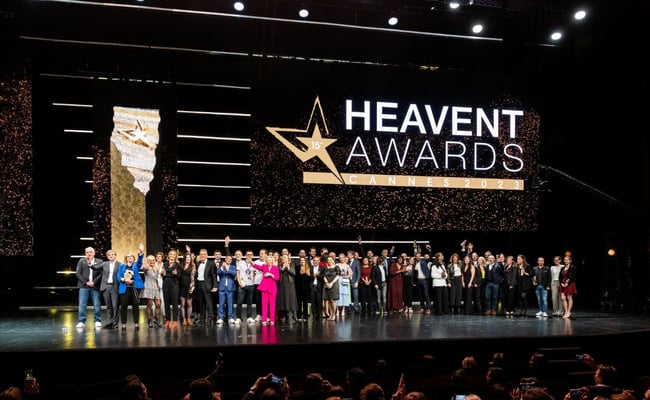 Under the motto "You dreamt it. We built it", the staging of the new 700 Vario, also known as #NextGen700, was all about the dream of an ultimate tractor. But can the Fendt 700 Vario really live up to all expectations, especially when it comes to its performance? We provided the proof: yes, it can! On a glider airfield, the new agricultural machine pulled a glider into the summer sky with a rope using a so-called auto-tow launch, thus impressively demonstrating the performance of the series. This resulted in pictures that have never been seen before in the world.
Our team implemented an unconventional idea with a lot of fun and passion, which demonstrated the power of the tractor in an impressive and inspiring way and fits perfectly to our client and his product.
Receiving the Heavent Award is confirmation that our creative and often unconventional approach to event planning and execution achieves the highest standards and is recognized by an international jury. We are very grateful to our client for the trust they have placed in our expertise.
Our team remains committed to continuing to create exceptional experiences that captivate, excite and inspire audiences. We are already looking forward to the next opportunity to demonstrate our skills and excitedly await future challenges and projects where we can realize our creative potential.
We at VOK DAMS would like to thank everyone who participated in this event and made it possible!
---
RELATED ARTICLES:
VOK DAMS PRODUCES FENDT 700 VARIO LAUNCH EVENT
FENDT AND VOK DAMS PRESENT DIGITAL SPOTLIGHT WEEKS
VOK DAMS DRIVES NIO EUROPEAN LAUNCH-EVENT