| PRESS RELEASE
VOK DAMS CREATES AND PRODUCES THE FENDT 700 VARIO LAUNCH EVENT
VOK DAMS Munich launches the most important tractor series, the 700 Vario, for the agricultural machinery manufacturer Fendt under the motto #NextGen700.
The goal: to stage the new product to an international audience in a live stream. The message: lightweight unprecedented power and agility. The highlight of the show: a never been seen before stunt.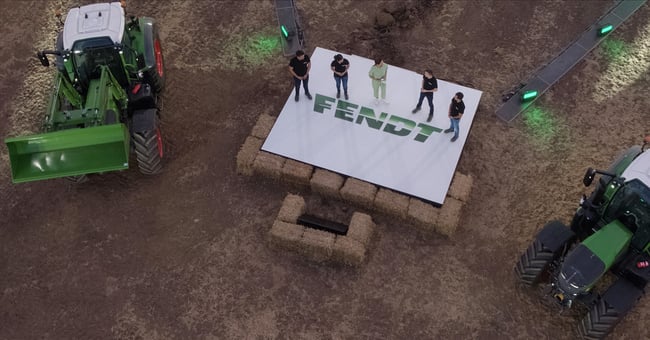 The launch campaign started with a teaser, asking farmers and agricultural companies for their "dreams" under the motto "Your dreamt it. We built it.", making the worldwide community curious. The actual launch of the world premiere of the #NextGen700, took place in the middle of a field in southern Germany. With a spectacular set design, light show, Fendt experts and lots of action. The show broadcasted all aspects of the series in an entertaining and informative way to the global community.
The dreams of farmers were presented covering topics like favorite place, sustainability, flexibility and performance. This was followed by Fendt experts demonstrating how the new tractors could make these dreams come true.
The end of the show was not only the highlight of the launch, it also was a moment of truth: when it comes to performance, can the new Fendt really make all dreams come true? Like pulling up a glider aircraft? Of course it can. Fendt proved this on a glider airfield, by pulling a glider into the summer sky using a so-called auto tow launch. Brilliant proof of the performance of the series. Creating never seen before imagery, going around the world.
The result of the successful campaign: buzz on the web, hundreds of thousands of views on YouTube, exploding pre-orders, and the proof: Fendt makes dreams come true.
VOK DAMS Munich managed the entire conceptualization and production of the launch event. VOK DAMS has been working with Fendt since 2020.
RELATED ARTICLES:
VOK DAMS MUNICH STAGES EUROPEAN INVENTOR AWARD 2022
FENDT AND VOK DAMS PRESENT THE DIGITAL SPOTLIGHT WEEKS
VOK DAMS CREATES WATCHES AND WONDERS EXPERIENCE FOR A. LANGE & SÖHNE