| PRESS RELEASE
EVONIK BUILDS ON THE DIGITAL EVENT EXPERTISE OF VOK DAMS FOR THE "EVONIK MEETS SCIENCE" SCIENCE FORUM
Networking, interaction and knowledge transfer - VOK DAMS adapts these aspects of live marketing into the digital space on the agency's proprietary event platform at Evonik's forum "Evonik meets Science".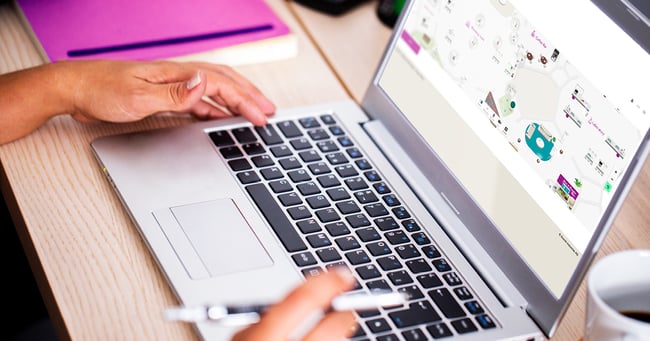 For the 20th anniversary of the "Evonik meets Science" forum, Evonik relies on the digital event expertise of VOK DAMS. As part of the two-day event for the DACH (Germany - Austria - Switzerland) region, high-level guests from business and research came together face-to-face and digitally. Networking, interaction and knowledge transfer were the focus of the event.
THE "VOK DAMS Open Platform for Hybrid Events"
For this event, Evonik selected the VOK DAMS Open Platform for Hybrid Events from a wide range of digital options, as it is extremely scalable and flexible. The "VOK DAMS Open Platform" is a white label solution that enables seamless and customized integration of numerous existing and proven online services. According to the focus of the digital experience, the VOK DAMS platform solution was adapted and made into the central stage of the forum.
Focus
knowledge transfer
Around 300 guests were present in the digital plenary opening session of the science forum, followed by stimulating keynotes by, among others, Dr. Harald Schwager, Deputy Chairman of the Executive Board of Evonik, or inspiring duo lectures by, among others, Dr. Heinrich Haas (BioNTech) and Prof. Dr. Roland Dittmeyer (KIT).
In so-called "poster sessions", experts in the field of specialty chemistry discussed individual topics in depth. Here, the participants had the opportunity to delve into sub-areas and to engage in lively idea exchanges. Up to 250 people were able to take part in each of the 14 "poster sessions". Moderators were able to invite up to 16 people per session by video link to a digital stage.
Focus Networking und Interaction
For networking and interaction, Evonik and VOK DAMS created an engaging new type of digital "get-together". The participants were able to move in and out of conversations with their avatar like at a face-to-face event and concentrate fully on networking. If guests approached other avatars, the live video feeds of the guests in proximity faded in and one could engage in one-on-one conversation. This enabled a flexible, personal and informal exchange in an exciting digital and visually impressive environment.
The forum was held at and broadcasted from the Mercedes-Benz Museum in Stuttgart. A highly innovative venue, fitting the overall positioning of the forum. A total of six sets were set up here for the digital event.
---
RELATED ARTICLES:
VOK DAMS PRODUCES DIGITAL EUROPEAN INVENTOR AWARD
AS REAL AS IT GETS: EVENTS IN THE METAVERSE
DIGITAL EXPERIENCE PLATFORM "GROHE X"