| NEWS
Let's meet in the metaverse
Are you ready for events in the Metaverse? For unforgettable encounters in worlds that were designed entirely for your purposes and your brand? On your own islands, cities or planets - without limits for imagination and physics?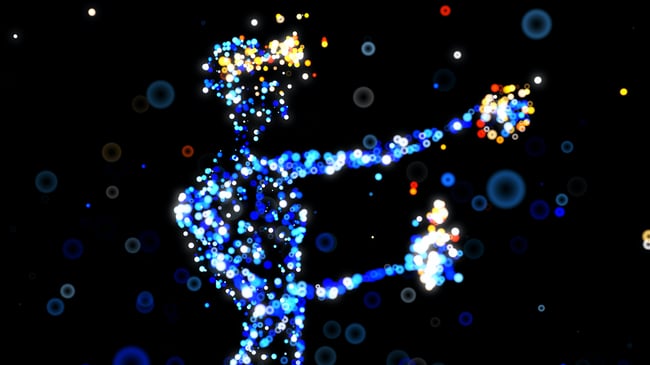 Image: Julien Tromeur
THE Metaverse - What's behind it?
By the way, the metaverse is not Mark Zuckerberg's concept. Sci-Fi writer Neal Stephenson invented it back in 1992 in his novel Snow Crash. The hero of the novel is the hacker and swordsman Hiro Protagonist, who has to fight a conspiracy both in reality and in a digital parallel world, the metaverse. He has access via VR glasses and the tracking of his body movements. In this metaverse you could meet people, play, fight, buy land and build houses. For most people that was just nerdy science fiction during the last few decades. However, Silicon Valley guru Jaron Lanier founded the first company for virtual reality as early as 1984 and thus coined the term metaverse. With the Snow Crash novel and the "Ready Player One" film adaptation, the topic then moved into to the mainstream.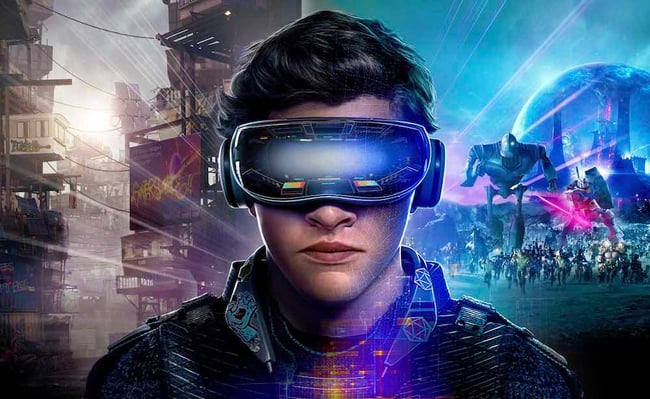 Image: Ready Player One
THE METAVERSE TODAY
Today the Metaverse is an actual, promising business model and the vision for a new Internet that can be physically experienced and accessed. A fusion of gaming, social media, work and entertainment to enable new immersive experiences. Roblox, Minecraft, Fortnite or Decentraland already point in this direction. But still only in 2D. The true magic of the Metaverse begins with total 3D immersion through AR and VR.
SOCIALVR FOR COLLABORATION, COMMUNITY & BUSINESS EVENTS
The closest you currently can get to the vision of the Metaverse is with SocialVR. Many experienced normal VR for the first time at trade fairs and exhibitions. For most this experience was a wild roller coaster, resulting in nausea and bewilderment. SocialVR is something completely different. The aim here is to meet and interact with people from all over the world in a way that is not possible on just a screen. This allows for three exciting topics for Experiential Marketing: collaboration, community and business events.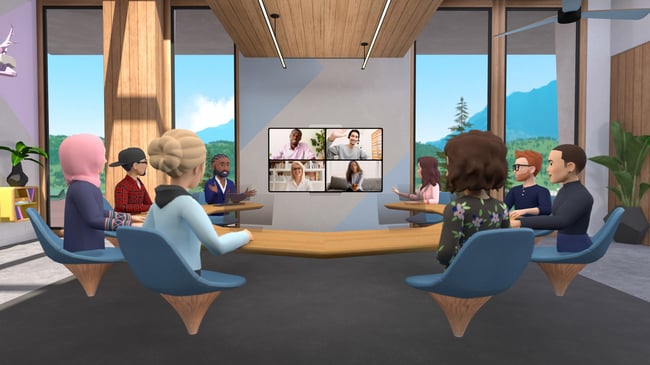 Image: Facebook / Reuters
SocialVR Collaboration: Here teams from around the world can work on ideas and projects in their own shared rooms. The atmosphere is adapted to the process. E.g. bright and clear for the strategy, inspiring and atmospheric for creativity.

SocialVR Community: Regular exchange like in a club or a bar - only without the lingering smell of smoke and lack of taxis - from anywhere in the world, with just a fast internet connection required.

SocialVR Business Events: Participants are sent headsets in advance and then experience lectures, panels, presentations and subsequent networking in a 3D environment. An exciting and intense experience, vastly superior over 2D. Here, too, there are no limits to the imagination when it comes to event settings and venue architecture.

I want in! What do I need?
Whenever it comes to new technologies and opportunities for the most impactful and effective events, we at VOK DAMS are always on the ball. (We were actually the first agency present in Second Life in 2004.). The Metaverse can be the location where we bring people and brands together. Creating unique experiences with long-lasting effects, going far beyond everyday life. Give us a call, and let's conquer the Metaverse together!

---
RELATED ARTICLES:
NFTS - A MORE SUSTAINABLE OPTION TO CONVENTIONAL GIVEAWAYS
AS REAL AS IT GETS: EVENTS IN THE METAVERSE
WHITEPAPER - BOOST YOUR LIVE-MARKETING WITH NFTS