| NEWS
Diversity, Equity & Inclusion (DE&I)
in Events
From #metoo to #blacklivesmatter, diversity has never been more in focus. We live in a time where it's increasingly natural and encouraged to stand up for equality and fairness for all.
DE&I (Diversity, Equity and Inclusion) is increasingly being recognized by companies, organizations and institutions as an important aspect of a society in transition. Awareness is growing and with it the understanding of the complexity of the topic. A DE&I culture is also required in the area of events and live marketing and is taking a more prominent role in the organization of events.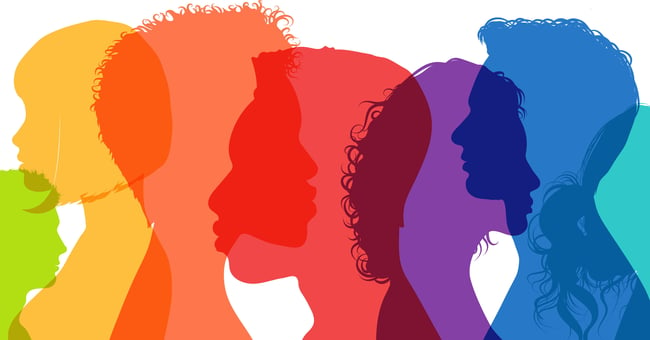 Diversity, equality and a strong culture of inclusion can be success factors for events and live marketing. Any event should be designed and produced in such a way that nobody feels left out and without any harm to the environment. Inclusivity and sustainability are nowadays at the core of everything we do and create. This applies to both participants and service providers. Including all people focused measures, e.g. diversity (recognition and inclusion), justice (equality), inclusion (participation of everyone), fair working conditions and remuneration. There are ways to create a more open, diverse, and inclusive event environment that can keep guests engaged throughout. This in turn can have a very positive effect on innovative strength, creativity and sense of being.
VOK DAMS develops methods on how diversity, fairness and inclusion can be implemented at events. The main focus here is on communication, program, location and catering. Planning is not limited to one characteristic, such as ethnicity. The full range of diversity is considered, including gender, ethnicity, language, sexual orientation, ability, religion, etc. It is critical that the event philosophy is communicated to guests and that the event is labeled as 'inclusive'. Making participants feel more comfortable specifying what adjustments they want.
VOK DAMS works with a comprehensive guide system that contains relevant, inclusion-promoting elements and is constantly being expanded. The individual clusters include the following aspects:
Communication
This includes - among others - the gender-equitable and inclusive written and oral formulation in internal and external communication as well as barrier-free communication materials. It is also recommended that videos used during the event be provided with subtitles so that the hearing impaired can easily follow the content. When registering, it is important to ask if a sign language interpreter or mobility assistance is required and if any food allergies or restrictions are present. As early as at registration, the choice of gender pronouns for the name tags can be requested and the customer's code of conduct can be shared to set the tone for the event.
Program
The consideration of religious and other obligations of the participants (e.g. public holidays, local school times) counts. But also the compatibility of family and career. Events starting on Monday and ending on Thursday supports the compatibility of family and work, as does enabling remote participation through online streaming or hybrid events. Do speakers and/or others with an active role (e.g. for moderation, entertainment) represent a wide diversity of gender, LGBTQ+ status, national origin, ability, geography, etc.? Is there any chance that someone with an active might be considered offensive? Could their presence be seen as cultural appropriation? These are just some of the aspects to consider when planning an inclusive event.
Location
The venue of an inclusive event should have gender-neutral restrooms or the ability to mark specific restrooms as gender-neutral. For participants with wheelchairs, accessible toilet facilities and elevators must be available, and steps and height differences must be leveled / ramped. Short distances, seating on paths at regular intervals and non-slip floors are among the relevant measures for people with walking disabilities. For people with visual impairments and the blind obstacles on paths need to be cleared, step edges should be marked or clear acoustic information should available. Hearing aids, subtitles for video content or sign language interpreters are measures for the hearing impaired and the deaf.
Catering
The catering of an inclusive event includes respecting food and serving restrictions (e.g. kosher meals, halal, vegetarian, vegan, dairy-free and gluten-free options or post-sunset/before-sunrise meals during Ramadan) and clearly identifying buffet content. But also a wide range of drinks, including hot and cold, caffeinated and decaffeinated, alcoholic and non-alcoholic options and the provision of water stations throughout the event area are all part of an inclusive event.
Evaluation
Event evaluation is crucial for VOK DAMS to optimize inclusive events. The event participants are asked how satisfied they were with the event and how it could have been made more inviting. The event team at VOK DAMS takes a close look at who is taking part during the event or through the photo documentation of the event. After the event, the results are first discussed internally and then with the customer in order to optimize the next event. The event evaluation also serves to expand the VOK DAMS DE&I guide.
Diversity, equality, and inclusion are part of the daily operations, our values, and culture at VOK DAMS. An essential part of a successful event is to make guests feel welcome and valued - regardless of who they are or where they come from. However, DE&I is not a one-time thing. It is a process that needs to keep happening.
You can download the VOK DAMS DE&I Checklist here.
---
RELATED ARTICLES:
VOK DAMS SIGNS DIVERSITY CHARTER
VOK DAMS DONATES 11,580 MANGROVE TREES TO MALIZIA MANGROVE PARK
5 QUESTIONS TO ... SIMONE THOMSEN