| NEWS
UNITED FOR A BETTER FUTURE: AI AND CIRCULAR ECONOMY IN THE FOCUS OF EVENTS
In the age of sustainability and innovation, event organizers are challenged to set the course for an environmentally friendly and fascinating event industry. The combination of the circular economy and artificial intelligence (AI) opens up exciting possibilities for sustainable and unique events.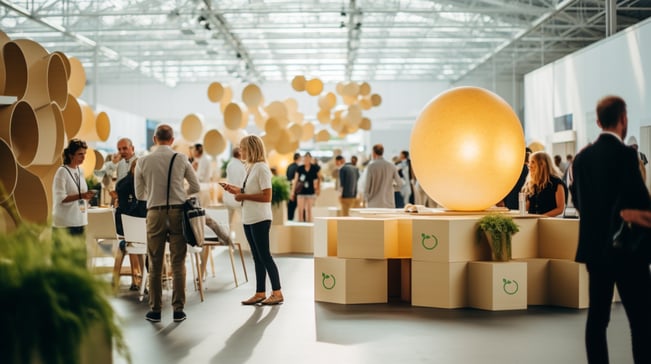 CIRCULAR ECONOMY: MAXIMIZE RESOURCES, MINIMIZE WASTE

The circular economy is based on the principle that resources should not be wasted, but instead should be designed to be used in a closed-loop cycle. For events, this means that special attention must be paid to reducing waste and maximizing resource efficiency from start to finish.
SUSTAINABLE EVENT DESIGN AND MATERIAL SELECTION

The circular economy already plays a decisive role in the planning of an event. The primary goal is to pursue a sustainable design and thus minimize environmental impact. A conscious effort is made to use environmentally friendly materials, and the lifespan of stage sets, decorations and other elements is maximized to reduce waste. Disposable plastic tableware is replaced with reusable alternatives, reducing the event's environmental footprint.

Sustainable event design requires working with sustainable suppliers and using materials that conserve resources. This not only improves environmental sustainability, but also positively impacts the event's image. Special attention is also paid to catering. Using locally produced, seasonal and organic food helps reduce the carbon footprint while supporting the local economy and agriculture. Conscious food choices create healthy and delicious options for participants* and underscore the commitment to sustainable event design.

To further reduce food waste, take-back or composting stations will be set up during the event. This gives participants the opportunity to compost or return their leftovers, which promotes efficient waste management and minimizes the amount of unused food. The circular economy is shown here to be an effective strategy for conserving resources and making a positive contribution to the sustainability of events.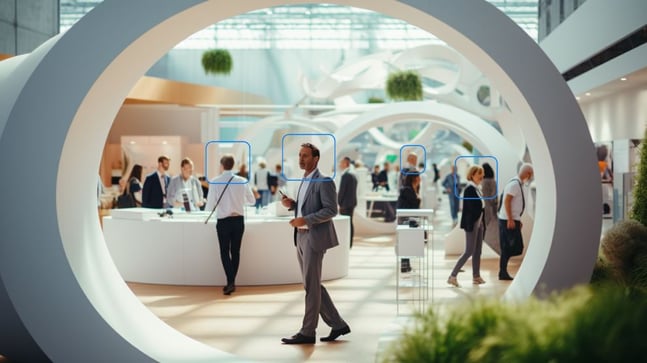 ARTIFICIAL INTELLIGENCE AT EVENTS

The use of artificial intelligence can not only make the planning and execution of events more efficient, but also enable CO2 savings. With the help of AI, organizers can analyze past events and draw conclusions for upcoming events from the insights gained. Intelligent algorithms make it possible to precisely predict which workshops or presentations will be in particularly high demand. These forecasts allow resources to be used in a targeted manner, which not only increases efficiency but also reduces unnecessary waste and CO2 emissions.

Mobility management is also supported by AI. Intelligent algorithms analyze traffic flow and suggest environmentally friendly arrival and departure routes. This avoids congestion and minimizes participants' individual carbon footprints. In addition, AI can help set up strategically placed waste separation stations that enable targeted and efficient waste disposal.

THE UNIFICATION OF CIRCULAR ECONOMY AND AI

The future of sustainable events lies in the combination of the circular economy and artificial intelligence. Circular economy promotes the conscious use of resources and waste, while AI increases efficiency and thus saves emissions. The combination of these approaches opens a new chapter for sustainable events that not only protect the environment, but also raise awareness of waste separation and recycling among the public at the same time. Organizers should start now to make this innovative combination a reality and shape the future of sustainable events.

---
RELATED ARTICLES:
AI AS A GAMECHANGER FOR SUSTAINABLE EVENT MANAGEMENT?
SHINE: SUCCESS FORMULA FOR EVENTS
HOW WILL ARTIFICIAL INTELLIGENCE CHANGE THE EVENT INDUSTRY?